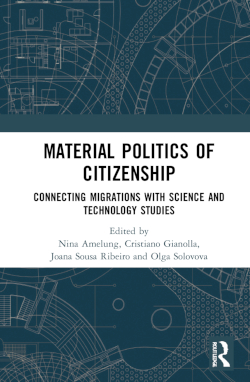 From the intersection of citizenship, critical migration studies, and science and technology studies (STS), this book examines, across the various case studies, configurations between technologies, infrastructures and citizenship that may constrain acts of citizenship in migration and border regimes; constitute contestation and participation over citizenship; or enable and shape alternative acts of citizenship in migration and border regimes.
Technologies and infrastructures on the border are designed to position migrants in multiple and potentially contradictory forms; migrants crossing the border, in their turn, may choose to challenge and repurpose those technologies and infrastructures to match their interests. By elaborating on the notion of 'material citizenship politics', the contributors provide a detailed analysis of socio-material practices on the border that moves beyond portraying migrants as mere victims of border technologies and migration infrastructures and anchors critique on the inside of those practices. The chapters in this volume hope to contribute to setting the research agenda and to stimulate further research along these lines revisiting the (in)visibilities of migrant subjects along technologies and infrastructures.
As the current pandemic unfolds, exposing societal vulnerabilities, this book highlights the need to critically reflect on the establishment of existing technologies and infrastructures in order to examine to what extent those affect and shape migrant subjects in particular, but may also be extended and used on wider populations after being tested and normalized on vulnerable subjects.
This book will be of interest to a broad readership across the social sciences, including scholars working in Critical Migration and Border Studies, Citizenship Studies, Critical Security Studies, and Science and Technology Studies. The chapters in this book were originally published in the journal Citizenship Studies.
>More information availabe HERE
---
Table of Contents
1. Technologies, infrastructures and migrations: material citizenship politics
Nina Amelung, Cristiano Gianolla, Olga Solovova and Joana Sousa Ribeiro
2. After citizenship: autonomy of migration, organisational ontology and mobile commons
Dimitris Papadopoulos and Vassilis S. Tsianos
3. Re-assembling the surveillable refugee body in the era of data-craving
Martin Lemberg-Pedersen and Eman Haioty
4. Fragmented citizenship: contemporary infrastructures of mobility containment along two migratory routes
Francesca Esposito, Alí Murtaza, Irene Peano and Francesco Vacchiano
5. Operation shelter as humanitarian infrastructure: material and normative renderings of Venezuelan migration in Brazil
Carolina Moulin Aguiar and Bruno Magalhães
6. Knowledge and legitimacy in asylum decision-making: the politics of country of origin information
Jasper van der Kist and Damian Rosset
7. Driving social change from below: exploring the role of counter-security technologies in constructing mobile noncitizens
Sanja Milivojevic
8. Beyond citizenship: the material politics of alternative infrastructures
Fredy Mora-Gámez
9. A material politics of citizenship: the potential of circulating materials from UK Immigration Removal Centres Sarah M. Hughes and Peter Forman
---
Editors
Nina Amelung is Research Fellow at the Institute of Social Sciences, University of Lisbon. She works on public controversies, public involvement, and democratic challenges of cross-border biometric data-exchange in the context of crime and migration control infrastructures. She is especially interested in the reflection on emergent and marginalized publics. She has authored and co-authored peer reviewed articles and book chapters on the European asylum policies and biometric technologies applied in migration control infrastructures. Her latest co-authored book is entitled Modes of Bio-Bordering: The Hidden (Dis)integration of Europe.
Cristiano Gianolla is a researcher at the Centre for Social Studies (CES) at the University of Coimbra (UC), where he is co-coordinator of the research unit on Democracy, Citizenship and Law, co-founding and co-coordinating member of the "Inter-Thematic group on Migrations", co-coordinator of the research group "Epistemologies of the South", and coordinating editor of Alice News. He is the Principal Investigator of the UNPOP project (FCT, 2021-2024) and co-coordinates the PhD courses "Democratic Theories and Institutions", "State, Democracy and Legal Pluralism", and the MA course "Critical Intercultural Dialogue" at the UC. His current research interests focus on emotions and narratives in democratic processes in a broader range of topics that include democratic theory, populism, postcolonialism, intercultural dialogue, heritage processes, movement-parties, citizenship, human rights, migrations, and cosmopolitanism.
Joana Sousa Ribeiro is Researcher at the Centre for Social Studies (NHUMEP Research Group- Humanities, Migration and Peace Studies Research) at the University of Coimbra, Portugal, and a PhD student at the School of Economics, University of Coimbra. Her main research interests include socio-professional mobility of migrants and refugees, longitudinal studies, intercultural studies, and citizenship. She co-cordinates an IMISCOE research network group – YAMEC Network – that focuses on issues of mobility of young adults and the economic crisis and she is a founding member of the "Inter-Thematic group on Migrations" (ITM) at CES.
Olga Solovova is Researcher at the Centre for the 20th Century Interdisciplinary Studies at the University of Coimbra, Portugal. In 2018–2020, she developed a Maria Sklodowska-Curie research action (MSCA-IF-2017:798157) at the Center for Mutlingualism in Society across the Lifespan (MultiLing), University of Oslo, Norway. Her project looked into discourses in action on the Norwegian-Russian border, and the role of Russia in the bordering practices within the multilingual economy. Her main fields of expertise are language ideologies and policies in multilingual and migrant contexts, social construction of space and multimodal meaning making, spaces and means of representation of the Other. She has authored and co-authored book chapters and articles on media representations of migrant and refugee population and language policies in migrant contexts and in academia.